Wixoss Standup Diva WXDi-P03
Booster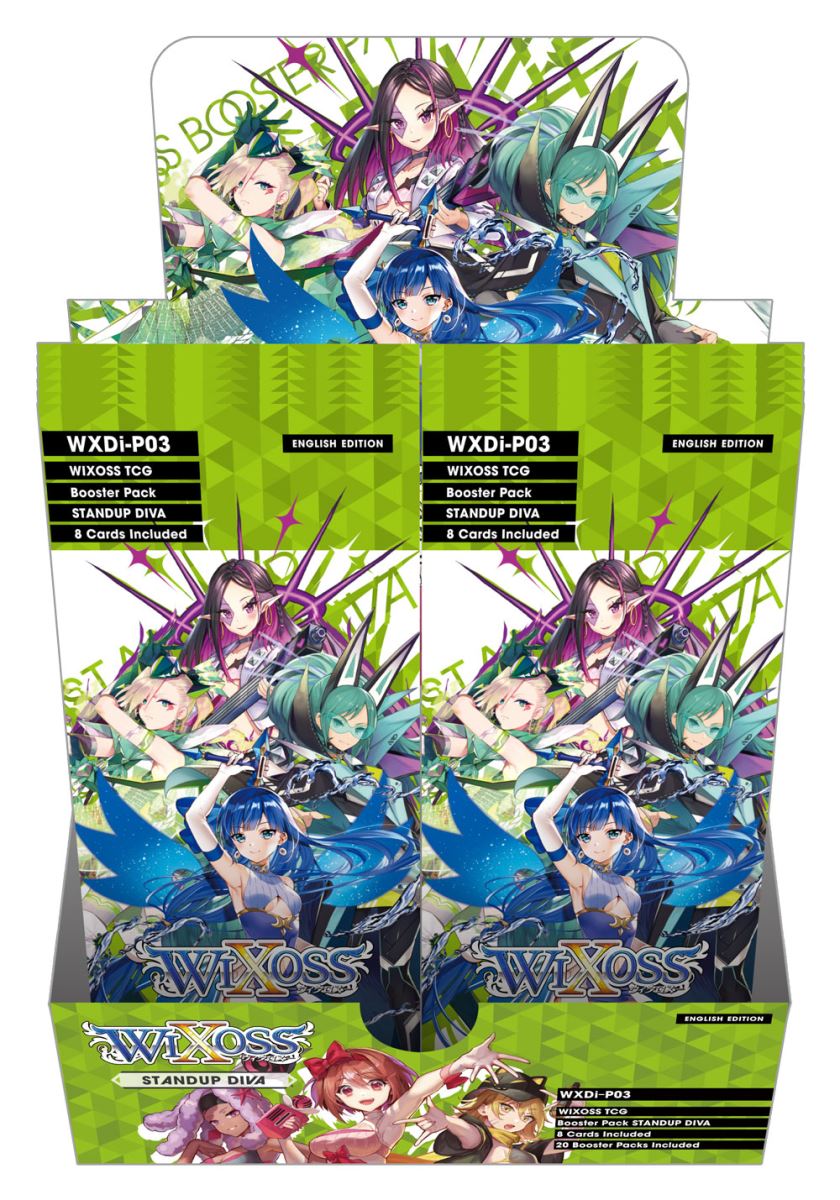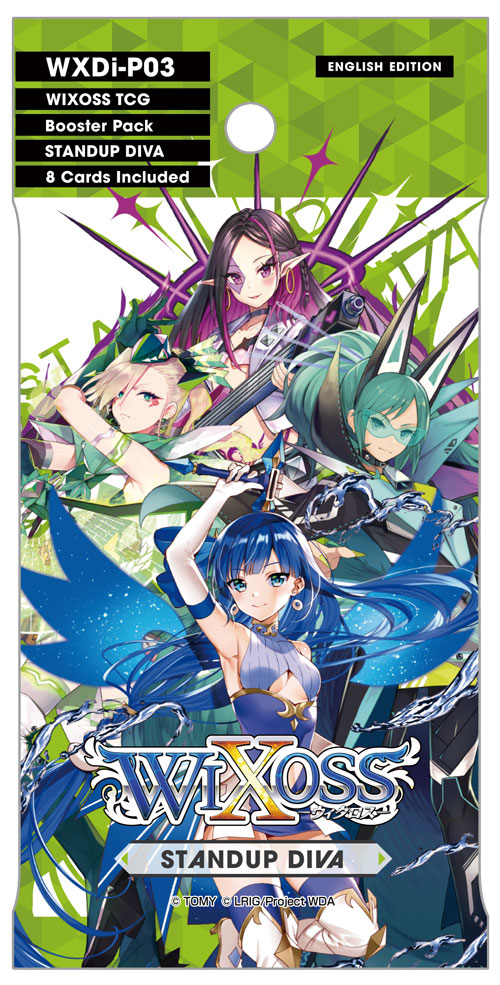 - Product information
STANDUP DIVA is the fourth expansion pack of WIXOSS ENGLISH EDITION.
It is related to the 4 constructed DIVA DEBUT DECK that have already been released.
And Rei (No Limit), WOLF (Card Jockey), Nova (Uchu no Hajimari), and Sanga (DIAGRAM) will appear as the new Center LRIGs for each team! With the release of STANDUP DIVA, we finally have all four teams' Center LRIGs!
Of course, the included cards in this set can be combined with all the cards from the decks and packs released so far.
- NEW Game Mechanic and Strategy
There's a new "Exceed" ability that allows you to utilize LRIG cards after GROW for powerful effects! There are also many other highlights such as the Piece Card, a special move that transcends team boundaries! You can play with your own strategy!
- STANDUP DIVA Release Campaign
To commemorate the release of STANDUP DIVA, Special Promo Pack vol.3 will be
included as a box purchase campaign! A total of 6 Lv.3 LRIG, including the 4 newly introduced
above, are included, in Foil and Gold Stamp Autograph printed! ?Special Promo Pack vol.3 is available only for 1st printing.
PLEASE NOTE:
Expansion packs alone do not give you enough cards to play the game.
You will need at least one constructed "Diva Debut Deck" to start the game.
- Sample Card images
- Content
1 pack contains 8 cards
1 box contains 20 packs
-96 Cards PI,SR are foil cards.
PI(Piece Rare) 6 types
SR(Super Rare) 12 types
L(LRIG Rare) 28 types
R(Rare) 18 types
C(Common) 32 types*
-82 Parallel Cards All foil cards
DiR(Diva Rare) 4 types
SCR(Secret) 12 types
L(LRIG Rare) 16 types
R(Rare) 18 types
C(Common) 32 types
*7 reprinted cards are included
-Specifications and designs may be subject to change.
---
Main Distributor for Europe


Website: www.gametrade.it
Email: info@gametrade.it
Sub Distributor for Spain

Website: https://www.facebook.com/blackpennygames
Email: sales@blackpennygames.com
Sub Distributor for Germany

Website: www.blackout-spiele.biz/ www.spielhouse.com
Email: info@blackout-spiele.de
Sub Distributor for France

Website: www.ynaris.com
Email: account@ynaris.com