Wixoss Welcome Back Diva WXDi-P06
Booster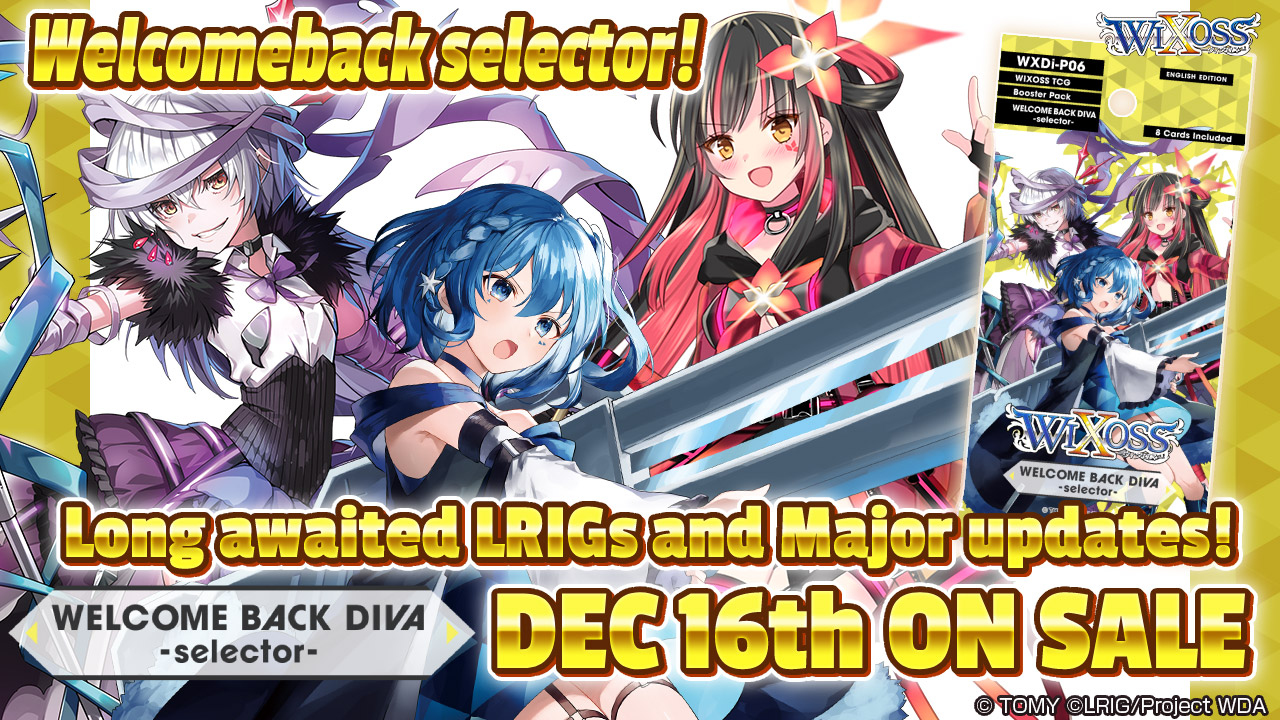 Product information
Welcome back! Finally, the first original anime story "selector infected WIXOSS" LRIGs debut! The popular characters "Piruluk", "Yuzuki", and "Urith" are included as Center LRIGs, much anticipated by fans of the original story!
Major Updates!
New Rarity cards have been added! The collection element has been greatly enhanced with super gorgeous cards created by Print Technology for the first time in WIXOSS ENGLISH EDITION!!
New game mechanics! New powerful trump card "Dream Team PIECE" has been added!
Sample Card images

More Information!
A "Special Promo Pack vol. 6" containing "Servant #" featuring the 6 LRIGs of "selector infected WIXOSS" that appear in this booster set will be included in each box, limited to the first edition!
Additional purchase benefits (for stores ordering on a first-come, first-served basis) are also being planned! Stay tuned to the official Facebook account for more news!
And many more new elements! Don't miss the biggest BIG SURPRISE of WIXOSS in 2022!
Content
1 pack contains 8 cards
1 box contains 20 packs
1 carton contains 12 boxes
Booster Pack Break Down
92 Cards PI,SR are foil cards.
PI(Piece Rare) 6 types
SR(Super Rare) 12 types
LC 24 types
R(Rare) 18 types
C(Common) 32 types*
130 Parallel Cards ?All foil cards
UR(NEW) 8 types
SRP(NEW) 12 types
LRP(NEW) 14 types
LR(LRIG Rare) 16 types
LC 11 types
R(Rare) 18 types
C(Common) 32 types
*ST 15 types
*Parallel cards of Constructed Deck.
*Specifications and designs may be subject to change.
---
Main Distributor for Europe


Website: www.gametrade.it
Email: info@gametrade.it
Sub Distributor for Spain

Website: https://www.facebook.com/blackpennygames
Email: sales@blackpennygames.com
Sub Distributor for Germany

Website: www.blackout-spiele.biz/ www.spielhouse.com
Email: info@blackout-spiele.de
Sub Distributor for France

Website: www.ynaris.com
Email: account@ynaris.com