Super Exclusive Wixoss Pre-Release REUNION DIVA WXDi-P11
Wixoss Pre-Release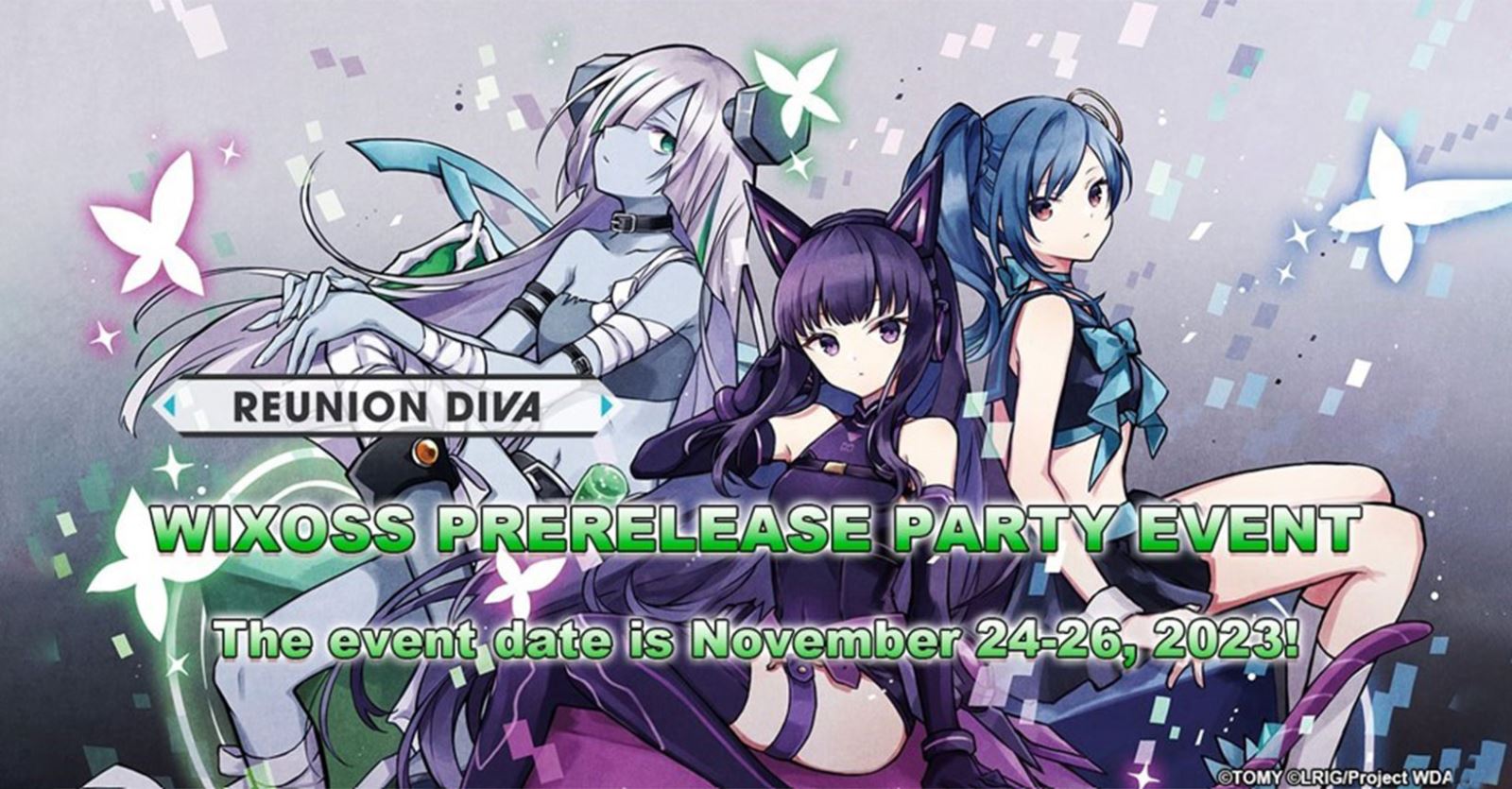 Join the Super Exclusive Wixoss Pre-Release REUNION DIVA WXDi-P11
Event Type:
Wixoss Pre-Release | Level 1 Tournament
Formato:
Limited Sealed Pack
Tournament Period:
From 24 November to 26 November 2023
How the tournament works:
This event uses 6 packages of WXDi-P11 and "pre-release kits". Participants join the event without cards and decks and can play with WXDi-P11 cards that will be released the following week, so they will have the opportunity to try the product a week early!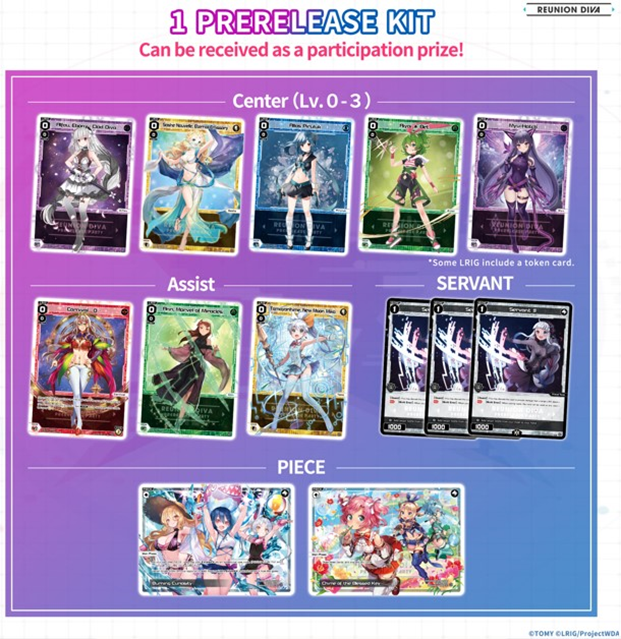 The pre-release kit consists of a bundle of 18 cards, each player will combine this kit with the cards out of the 6 packs he will receive to build a deck (see below "Deck Construction" for details) for play against other participants.
1, Reception
Reception will be held in the same way as at a regular WIXOSS PARTY. At this time, please give "Pre-release Kit" and "WXDi-P11 6 packs" to each participant. Neither "Pre-release Kit" nor "WXDi-P11 6 pack" can be opened or checked until the next "Deck Construction".
2. Deck Construction
In "REUNION DIVA WXDi-P11- PRERELEASE PARTY", different rules from the normal construction rules will be applied.
Under the normal rules, the main deck must contain exactly 40 cards, but only for this event, it is exactly 30 cards.
Under the normal rules, only cards that match the color of the LRIG can be in the deck, but for this event only, " You can be allowed to put any cards in the deck, regardless of the color of the LRIG.
Under the normal rules, only 20 cards with Life Burst can be included in the main deck, but only for this event, you can include any number of Life Burst cards in your deck.
-In addition,
You may use any cards from your pack instead of the cards included in the kit for the Assist LRIG
Players may freely change their decks between rounds.
Participants may take the cards from the packs and pre-release kits home with them, but please note that they can only be used at WIXOSS PARTY except for these pre-release events after September 22, 2023, the official release date of WIXOSS.
The standard deck-building time is 40 minutes.
3. Batoru!
From then on, use the decks you have just built as in a regular WIXOSS PARTY, and play the number of matches according to the number of participants.
Prizes:
Players will be able to keep the cards from the prerelease pack and the 6 boosters assigned, for the winner 1 Special Servant Promo (Same as WXDI-P11 Box Purchase Promo) and 1 Ceremony Servant# Promo (Random Price)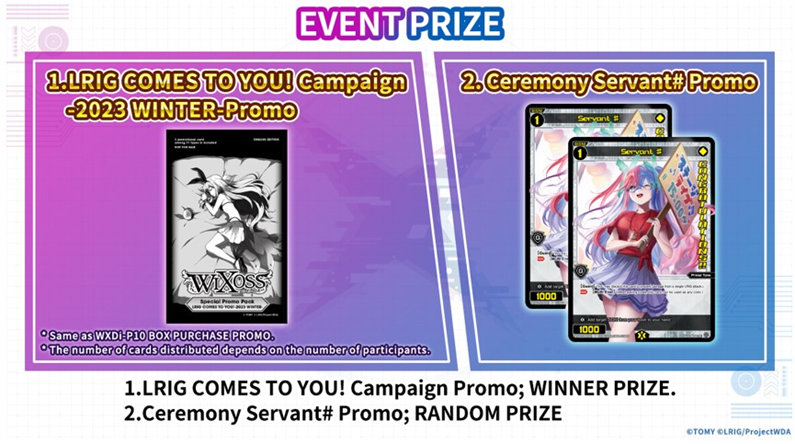 Winner Special Playmat (please ask the store if the playmat is available, limited product!)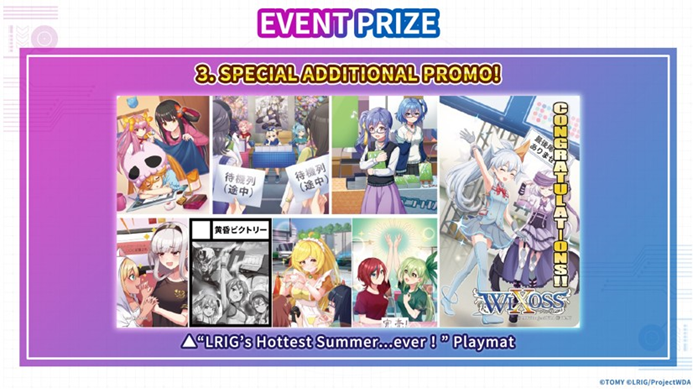 This event is super exclusive and reserved for the first 35 European stores that request it!
Suggested Registration Cost: €30.00 - €35.00
---
Main Distributor for Europe


Website: www.gametrade.it
Email: info@gametrade.it
Sub Distributor for Spain

Website: https://www.facebook.com/blackpennygames
Email: sales@blackpennygames.com
Sub Distributor for Germany

Website: www.blackout-spiele.biz/ www.spielhouse.com
Email: info@blackout-spiele.de
Sub Distributor for France

Website: www.ynaris.com
Email: account@ynaris.com
Organizers List
| Date | Format | Location | Address | Region | | | | |
| --- | --- | --- | --- | --- | --- | --- | --- | --- |
| 11/24/2023 19:00 | Limited Sealed Pack | Krolm | Poczty Gdanskiej, 3 80321 Gdansk Poland | | | Contact | | |
| 11/25/2023 20:00 | Limited Sealed Pack | Thetcgshop | Hannieschaftstraat 70 2135k Hoofddorp Netherlands | | | Contact | | |
| 11/25/2023 10:00 | Limited Sealed Pack | La Communauté Des Jeux | 22 Avenue Jules Ravat, La Communauté Des Jeux 38500 Voiron France | | | Contact | | |
| 11/26/2023 13:30 | Limited Sealed Pack | Leloupbar | Route De Praz Repos 26 1084 Carrouge Switzerland | | | Contact | | |
| 11/26/2023 17:00 | Limited Sealed Pack | Libertalia Juegos | C/ Badajoz, 32 28931 Móstoles Spain | | | Contact | | |