Wixoss Europe Spring Ceremony Milano
Wixoss Ceremony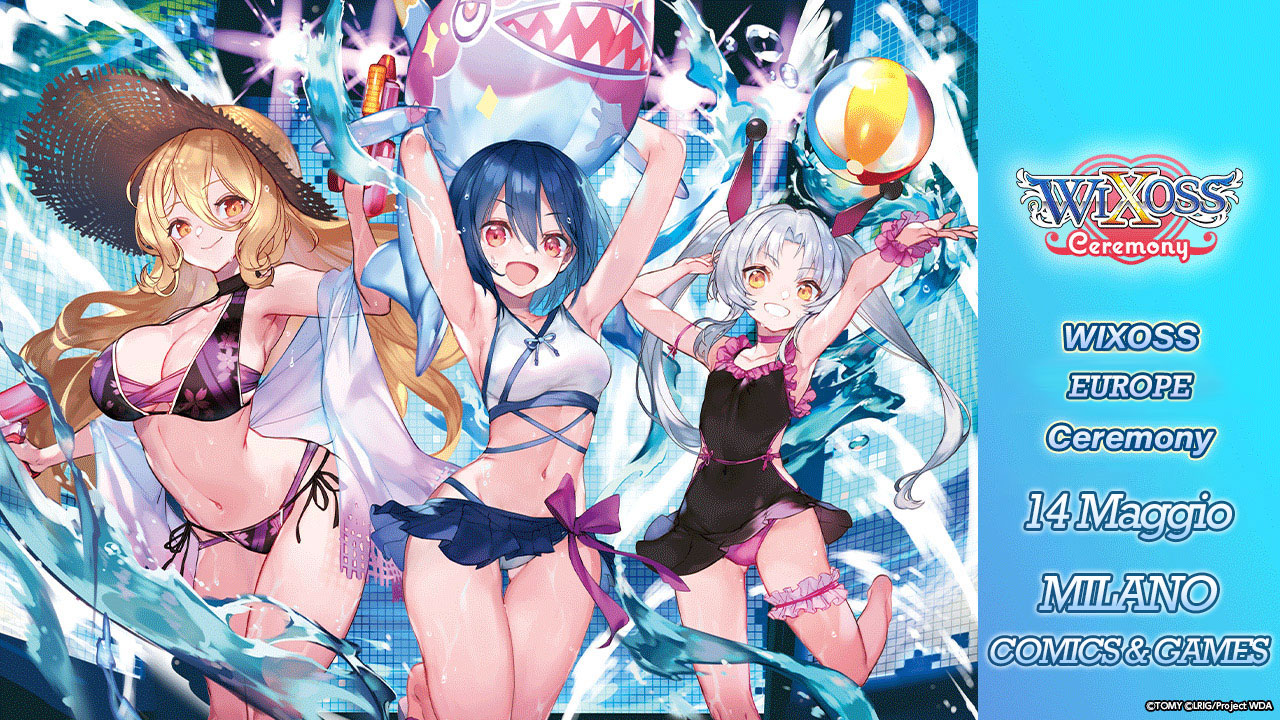 Il Wixoss Europe Spring Ceremony - Milano Comics and Games è uno speciale evento che offre nuovi esclusivi premi!
TIPO DI EVENTI:
WIXOSS CEREMONY (TORNEO DI LIVELLO 4)
Il Wixoss Spring Ceremony - Milano Comics and Games è un torneo aperto a tutti i giocatori di Wixoss Card Game.
FORMATO:
Costruito
LUOGO:
Per partecipare a questo evento, ogni partecipante dovrà essere dotato di:
- un mazzo Wixoss Game legale per i tornei;
- uno smartphone connesso a internet con l'app wixosstcg.eu installata (sarà messa a disposizione una connessione Wi-Fi presso il luogo del torneo);

Sarà possibile iscriversi all'evento entro Sabato 13 Maggio.
INFORMAZIONI E ORARI:
Domenica 14 Maggio 2023
Iscrizioni: Iscrizione Online Obbligatoria con Pagamento Immediato
Domenica 14 Maggio ore 11:00 >>> Player Briefing e Inizio Torneo.
FORMULA TORNEO:
Il torneo si svolge in un numero di Round di Svizzera in base numero di partecipanti.
Lista del Mazzo Obbligatoria
Sarà necessario essere in possesso del Game ID e usare il Deckbuilder dall'Area Player del sito o tramite app wixosstcg.eu per creare e trasmettere la propria lista prima dell'inizio del torneo.
Nel caso in cui non si possegga un Game ID, sarà possibile crearlo cliccando QUI.
Modalità e Durata dei Turni di Svizzera
Ogni turno di svizzera dura 60 minuti di tempo con Incontri al Meglio delle tre Partite.
Al termine dei turni di svizzera NON verrà svolto alcun Playoff a eliminazione diretta.
COSTO DI ISCRIZIONE E PREMIO DI PARTECIPAZIONE:
- COSTO ISCRIZIONE BASE: 30,00 € (Include 2 Speciali Carte Promo di Partecipazione)*
*L'iscrizione include anche l'Ingresso alla Fiera Milano Comics and Games.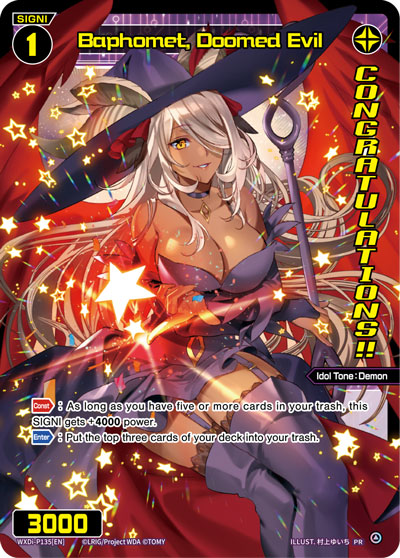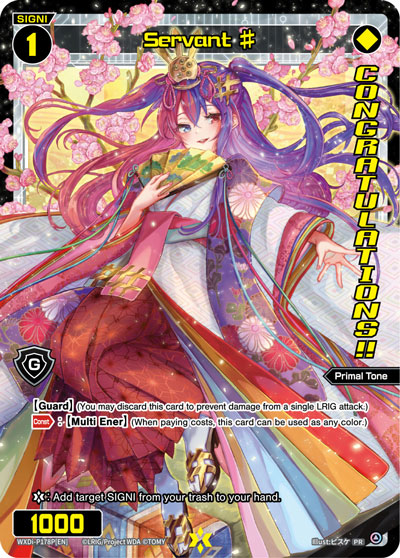 N.B. I giocatori che si iscrivono senza partecipare all'evento otterranno esclusivamente il premio di partecipazione incluso con il costo di iscrizione.
PREMI
TOP 16
- 1x Special Playmat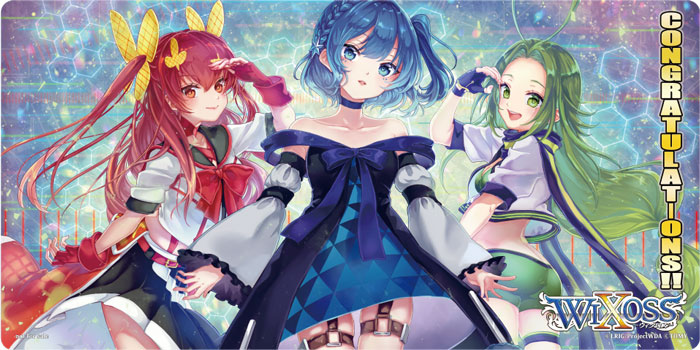 TOP 8
- 1x TOP8 Promo Card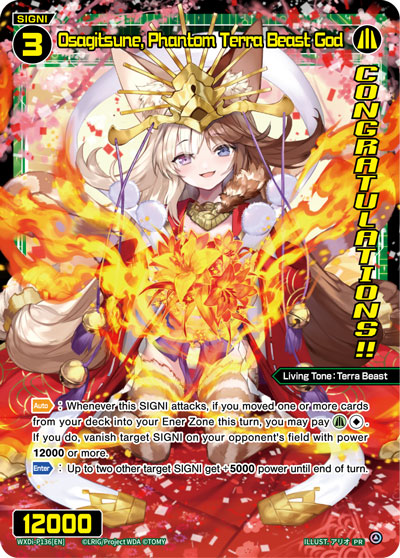 TOP 4
- 1x TOP4 Promo Card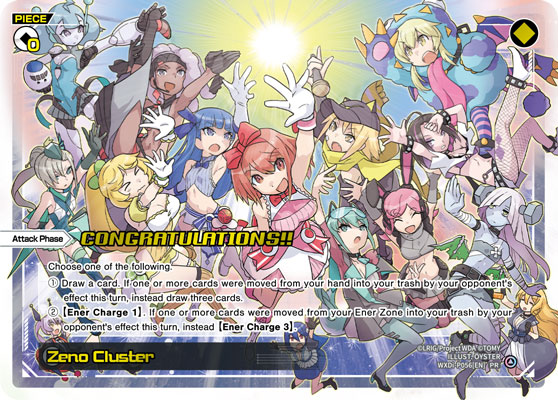 1° Classificato
- 1x Trofeo del Vincitore
---
Main Distributor for Europe


Website: www.gametrade.it
Email: info@gametrade.it
Sub Distributor for Spain

Website: https://www.facebook.com/blackpennygames
Email: sales@blackpennygames.com
Sub Distributor for Germany

Website: www.blackout-spiele.biz/ www.spielhouse.com
Email: info@blackout-spiele.de
Sub Distributor for France

Website: www.ynaris.com
Email: account@ynaris.com
Pre-Registered Players
| N# | PRE-REG. DATE | GAME ID | PLAYER |
| --- | --- | --- | --- |
| 1 | 4/5/2023 3:14:00 PM | 4000000622 | *********** |
| 2 | 4/5/2023 3:29:50 PM | 0900000595 | Sandro Hu |
| 3 | 4/5/2023 4:39:20 PM | 0500000717 | Gabriele Fattori |
| 4 | 4/5/2023 4:42:20 PM | 1000000758 | Lisa Mattioni |
| 5 | 4/6/2023 5:55:12 PM | 1400001373 | *********** |
| 6 | 4/6/2023 7:25:14 PM | 9400002138 | *********** |
| 7 | 4/6/2023 8:50:10 PM | 6800002367 | *********** |
| 8 | 4/8/2023 11:53:04 AM | 3000001955 | *********** |
| 9 | 4/12/2023 10:47:24 AM | 3400002192 | Jan Kitsune Nosaka |
| 10 | 4/12/2023 1:12:58 PM | 8500001239 | Eugénie Poupet |
| 11 | 4/12/2023 2:12:06 PM | 7100000821 | Sofian Giannarelli |
| 12 | 4/12/2023 2:12:15 PM | 4200000642 | Thomas Bouchereau |
| 13 | 4/12/2023 2:14:51 PM | 6800002448 | Ludovic Berland |
| 14 | 4/12/2023 5:35:59 PM | 4900001873 | Vincenzo D'onofrio |
| 15 | 4/12/2023 9:31:07 PM | 5700002366 | Florian Dubosson |
| 16 | 4/13/2023 4:52:06 PM | 0500000131 | Marco Cariboni |
| 17 | 4/13/2023 4:54:36 PM | 0700000151 | *********** |
| 18 | 4/13/2023 6:06:30 PM | 3400000815 | *********** |
| 19 | 4/14/2023 12:28:49 PM | 7500000942 | Olivier Rey |
| 20 | 4/20/2023 1:01:30 PM | 1600001717 | Julia Ludwig |
| 21 | 4/20/2023 1:02:07 PM | 3900001305 | Patrick Ludwig |
| 22 | 4/22/2023 12:05:47 PM | 7600000952 | Gabriel Fischer |
| 23 | 4/23/2023 12:03:22 AM | 2600001582 | Mael St |
| 24 | 4/23/2023 12:05:14 AM | 1100000768 | *********** |
| 25 | 4/24/2023 11:24:58 AM | 6900001116 | *********** |
| 26 | 4/27/2023 6:58:32 PM | 1300001787 | Nathan Shadow |
| 27 | 5/2/2023 11:37:05 AM | 4100001154 | *********** |
| 28 | 5/2/2023 11:54:51 AM | 7700001187 | *********** |
| 29 | 5/2/2023 12:32:06 PM | 1200001795 | Sacha Bartschi |
| 30 | 5/2/2023 8:01:19 PM | 8300002056 | Lowlig Won |
| 31 | 5/3/2023 7:19:33 PM | 5100001145 | Riccardo Rossi |
| 32 | 5/3/2023 8:13:32 PM | 2700000755 | Alessandro Leon Bova |
| 33 | 5/7/2023 11:03:13 AM | 4500000915 | *********** |
| 34 | 5/7/2023 11:30:45 PM | 3000000956 | Benjamin Gallerio |