Wixoss Europe September Grand Prix Milan
Grand Prix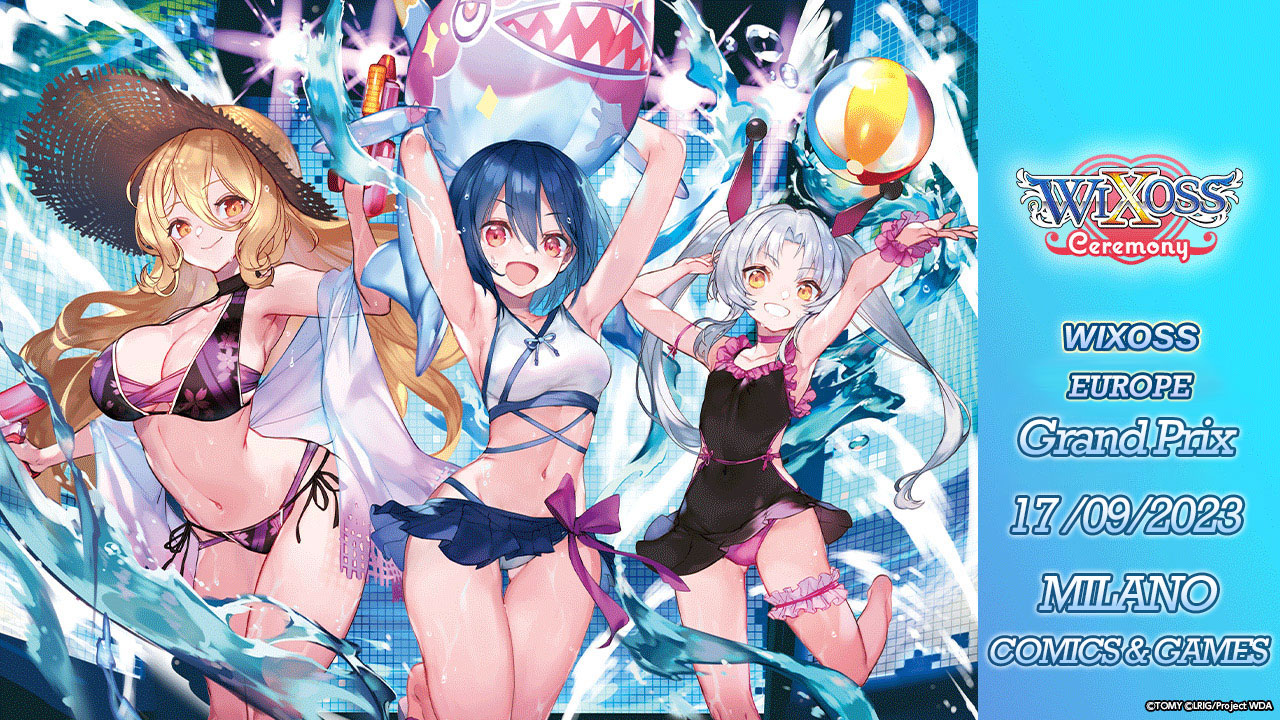 Il Wixoss Europe September Grand Prix Milano Comics and Games è uno speciale evento che offre nuovi esclusivi premi!
TIPO DI EVENTI:
WIXOSS GRAND PRIX (TORNEO DI LIVELLO 4)
Il Wixoss Europe September Grand Prix Milano Comics and Games è un torneo aperto a tutti i giocatori di Wixoss Card Game.
FORMATO:
Costruito
LUOGO:
Per partecipare a questo evento, ogni partecipante dovrà essere dotato di:
- un mazzo Wixoss Game legale per i tornei;
- uno smartphone connesso a internet con l'app wixosstcg.eu installata (sarà messa a disposizione una connessione Wi-Fi presso il luogo del torneo);

Sarà possibile iscriversi all'evento entro Sabato 16 Settembre.
INFORMAZIONI E ORARI:
Domenica 17 Settembre 2023
Iscrizioni: Iscrizione Online Obbligatoria con Pagamento Immediato
Domenica 17 Maggio ore 11:00 >>> Player Briefing e Inizio Torneo.
FORMULA TORNEO:
Il torneo si svolge in un numero di Round di Svizzera in base numero di partecipanti.
Lista del Mazzo Obbligatoria
Sarà necessario essere in possesso del Game ID e usare il Deckbuilder dall'Area Player del sito o tramite app wixosstcg.eu per creare e trasmettere la propria lista prima dell'inizio del torneo.
Nel caso in cui non si possegga un Game ID, sarà possibile crearlo cliccando QUI.
Modalità e Durata dei Turni di Svizzera
Ogni turno di svizzera dura 30 minuti di tempo con Incontri a Partita Secca.

Allo scadere dei 30 minuti, se la Partita non è ancora conclusa, si concludederà il turno in corso e si svolgeranno 3 turni addizionali.
Se nessun giocatore è riuscito a vincere entro i turni addizionali, il giocatore con maggiori vite sarà decretato vincitore della Partita.
In caso i giocatori avessero lo stesso numero di vite, la Partita e quindi l'Incontro terminerà in pareggio.
Al termine dei turni di svizzera NON verrà svolto alcun Playoff a eliminazione diretta.
COSTO DI ISCRIZIONE E PREMIO DI PARTECIPAZIONE:
- COSTO ISCRIZIONE BASE: 30,00 € (Include 1 Speciale Esclusiva Playmat di Partecipazione)*
*L'iscrizione include anche l'Ingresso alla Fiera Milano Comics and Games.
N.B. I giocatori che si iscrivono senza partecipare all'evento otterranno esclusivamente il premio di partecipazione incluso con il costo di iscrizione.
PREMI
TOP 32
- 3x Special Promo Cards
TOP 16
- 3x Special Promo Cards
TOP 8
- 1x Special Promo Card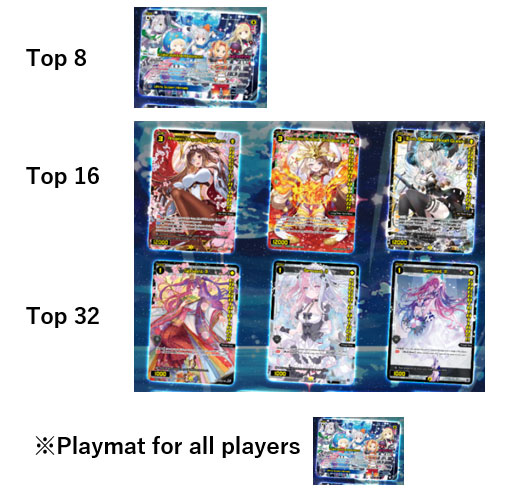 ---
Main Distributor for Europe


Website: www.gametrade.it
Email: info@gametrade.it
Sub Distributor for Spain

Website: https://www.facebook.com/blackpennygames
Email: sales@blackpennygames.com
Sub Distributor for Germany

Website: www.blackout-spiele.biz/ www.spielhouse.com
Email: info@blackout-spiele.de
Sub Distributor for France

Website: www.ynaris.com
Email: account@ynaris.com
Pre-Registered Players
| N# | PRE-REG. DATE | GAME ID | PLAYER |
| --- | --- | --- | --- |
| 1 | 08/10/2023 16:52:17 | 4000000622 | *********** |
| 2 | 08/10/2023 17:06:30 | 1400002110 | *********** |
| 3 | 08/10/2023 19:46:26 | 0900000595 | Sandro Hu |
| 4 | 08/10/2023 19:56:07 | 2500001491 | Stefano Loschi |
| 5 | 08/10/2023 20:03:05 | 0700001493 | Sara Guglielmino |
| 6 | 08/10/2023 20:08:46 | 2300001895 | Antoine Hamelin |
| 7 | 08/10/2023 21:58:33 | 3400002192 | Jan Kitsune Nosaka |
| 8 | 08/10/2023 21:59:41 | 8500001239 | Eugénie Poupet |
| 9 | 08/15/2023 00:59:38 | 3000000956 | Benjamin Gallerio |
| 10 | 08/17/2023 22:20:44 | 7100000821 | Sofian Giannarelli |
| 11 | 08/18/2023 20:32:45 | 5700002366 | Florian Dubosson |
| 12 | 08/19/2023 17:54:23 | 7500000942 | Olivier Rey |
| 13 | 08/21/2023 12:28:34 | 6900001116 | *********** |
| 14 | 08/21/2023 18:19:04 | 4400002183 | Alessandro Trevisiol |
| 15 | 08/22/2023 17:12:47 | 1400001373 | *********** |
| 16 | 08/25/2023 15:23:53 | 1300001787 | Nathan Shadow |
| 17 | 08/25/2023 21:33:20 | 2100002171 | Martin Rattanavan |
| 18 | 08/26/2023 11:41:38 | 1900002322 | Benjamin-eliot Bouguerra |
| 19 | 08/29/2023 00:26:57 | 5200002316 | Frédéric Rattanavan |
| 20 | 08/29/2023 14:46:25 | 1100000768 | *********** |
| 21 | 09/02/2023 01:50:51 | 1200001795 | Sacha Bartschi |
| 22 | 09/02/2023 16:09:46 | 7600000952 | Gabriel Fischer |
| 23 | 09/06/2023 11:37:30 | 2600001582 | Mael St |
| 24 | 09/06/2023 20:28:23 | 8500001158 | Loris De Jonghe |
| 25 | 09/06/2023 20:33:02 | 4500002274 | Fabio Cardillo |
| 26 | 09/08/2023 21:47:17 | 4000002620 | Mégane Cabibel |
| 27 | 09/11/2023 12:15:23 | 4100001154 | *********** |
| 28 | 09/13/2023 13:34:58 | 7700001187 | *********** |
| 29 | 09/17/2023 10:16:50 | 1300001200 | *********** |