Wixoss Ceremony in Store Season.2 2023
Wixoss Ceremony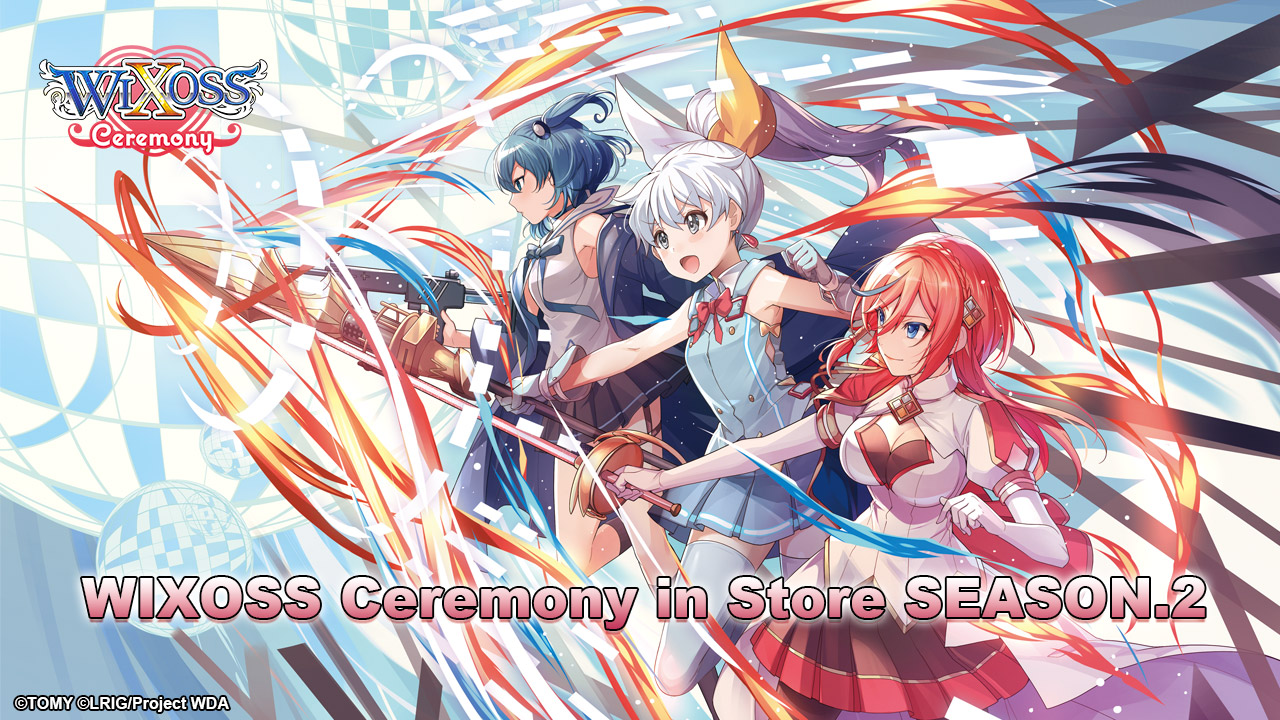 WIXOSS Ceremony in store SEASON.2 2023 is a special event held exclusively at WIXOSS official tournament stores.
We have prepared a very special promo for you, so please enjoy the event and join this Ceremony event! The event will be held at each store on the following dates.

Event Detail
Swiss format (Based on the number of participants) and SINGLE ELIMINATION.
Swiss Round's tie breaker: At host store's discretion
Best of 1, 30 minutes for each round.
When times up
·Swiss Round : Both players lose the game.
·SINGLE ELIMINATION : Extend the game until the match is over.*
*Obligation to play the game at the appropriate pace.
Decklist submission: Required.
Deck Construction Rules: WIXOSS ENGLISH EDITION cards already released as of the event date, including promos.
Prize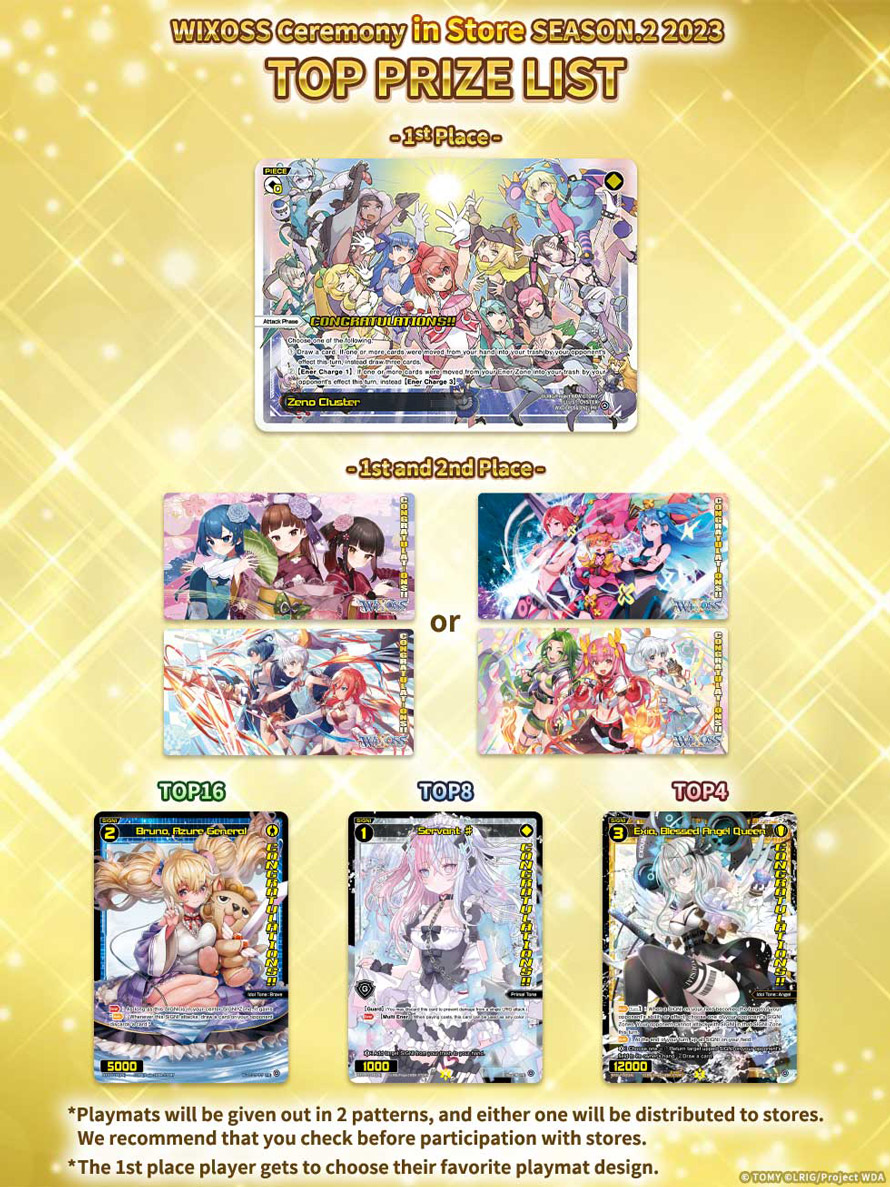 ---
Main Distributor for Europe


Website: www.gametrade.it
Email: info@gametrade.it
Sub Distributor for Spain

Website: https://www.facebook.com/blackpennygames
Email: sales@blackpennygames.com
Sub Distributor for Germany

Website: www.blackout-spiele.biz/ www.spielhouse.com
Email: info@blackout-spiele.de
Sub Distributor for France

Website: www.ynaris.com
Email: account@ynaris.com
Organizers List
| Date | Format | Location | Address | Region | | | | |
| --- | --- | --- | --- | --- | --- | --- | --- | --- |
| 9/29/2023 10:00 | Limited Sealed Pack | La Communauté Des Jeux | 22 Avenue Jules Ravat, La Communauté Des Jeux 38500 Voiron France | | | Contact | | |
| 9/30/2023 21:30 | Constructed | Asd Il Rifugio | Via Dionisio Corsini C/o Bocciodromo Cecina 57023 Cecina (li) Italia | Toscana | | Contact | | |
| 9/30/2023 15:00 | Constructed | Ludi&co | Via S. Ciceri 9 30027 San Dona Di Piave (ve) Italia | Veneto | | Contact | | |
| 10/1/2023 16:30 | Constructed | Trick Room Store | Via Fratelli Bandiera 74 60019 Senigallia (an) Italia | Marche | | Contact | | |
| 10/8/2023 13:30 | Constructed | Leloupbar | Route De Praz Repos 26 1084 Carrouge Switzerland | | | Contact | | |
| 10/14/2023 10:00 | Constructed | Libertalia Juegos | C/ Badajoz, 32 28931 Móstoles Spain | | | Contact | | Results |
| 10/20/2023 21:00 | Constructed | Club Multiverso | Viale Antonio Gramsci 316 Interno 4 41037 Mirandola (mo) Italia | Emilia Romagna | | Contact | | Results |