Wixoss Ceremony in Store Season.3 2023
Wixoss Ceremony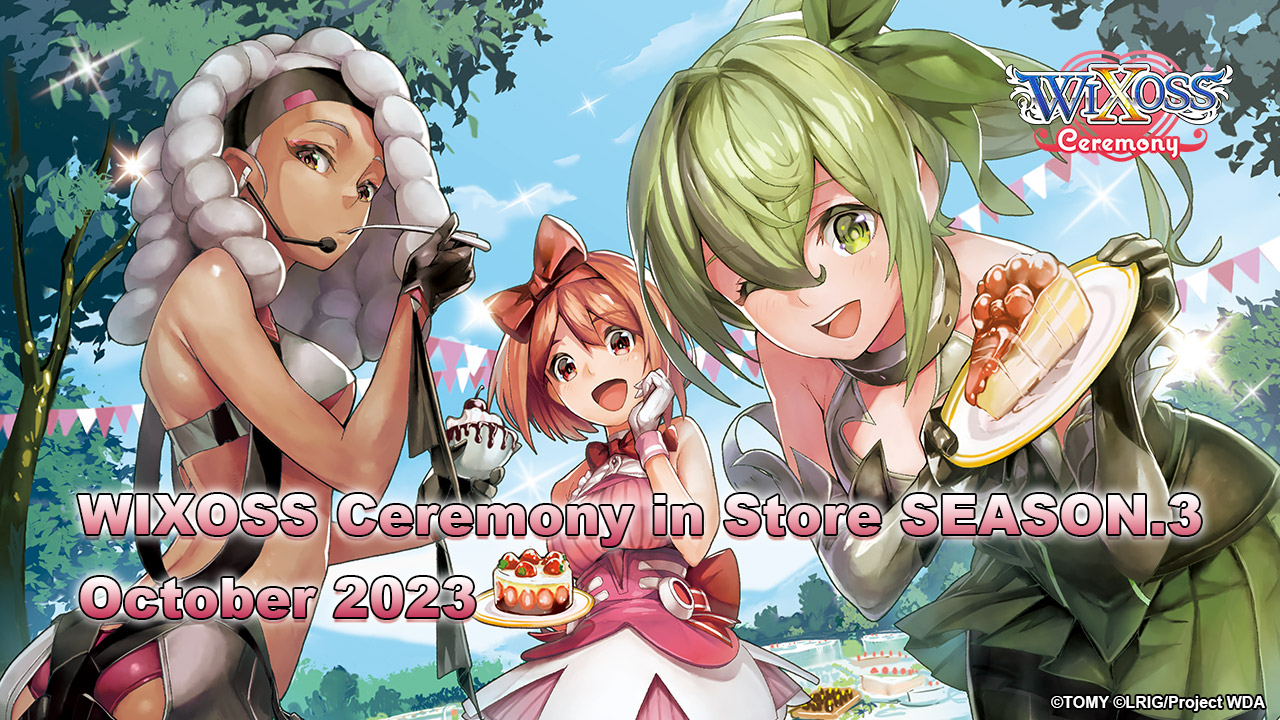 WIXOSS Ceremony in store SEASON.3 2023 is a special event held exclusively at WIXOSS official tournament stores.
We have prepared a very special promo for you, so please enjoy the event and join this Ceremony event! The event will be held at each store on the following dates.

Event Detail
Swiss format (Based on the number of participants) and SINGLE ELIMINATION.
Swiss Round's tie breaker: At host store's discretion
Best of 1, 30 minutes for each round.
When times up
·Swiss Round : Both players lose the game.
·SINGLE ELIMINATION : Extend the game until the match is over.*
*Obligation to play the game at the appropriate pace.
Decklist submission: Required.
Deck Construction Rules: WIXOSS ENGLISH EDITION cards already released as of the event date, including promos.
Prize
2 playmats will be given out of the above 3 types. We recommend that you check before participation with stores.
The 1st place gets to choose their favorite playmat design.
---
Main Distributor for Europe


Website: www.gametrade.it
Email: info@gametrade.it
Sub Distributor for Spain

Website: https://www.facebook.com/blackpennygames
Email: sales@blackpennygames.com
Sub Distributor for Germany

Website: www.blackout-spiele.biz/ www.spielhouse.com
Email: info@blackout-spiele.de
Sub Distributor for France

Website: www.ynaris.com
Email: account@ynaris.com
Organizers List
| Date | Format | Location | Address | Region | | | | |
| --- | --- | --- | --- | --- | --- | --- | --- | --- |
| 10/26/2023 18:00 | Limited Sealed Pack | Krolm | Poczty Gdanskiej, 3 80321 Gdansk Poland | | | Contact | | |
| 11/11/2023 20:00 | Constructed | Thetcgshop | Hannieschaftstraat 70 2135k Hoofddorp Netherlands | | | Contact | | |
| 11/11/2023 21:30 | Constructed | Trick Room Store | Via Fratelli Bandiera 74 60019 Senigallia (an) Italia | Marche | | Contact | | |
| 11/12/2023 16:30 | Constructed | Libertalia Juegos | C/ Badajoz, 32 28931 Móstoles Spain | | | Contact | | |