Wixoss Party February Exclusive
Wixoss Party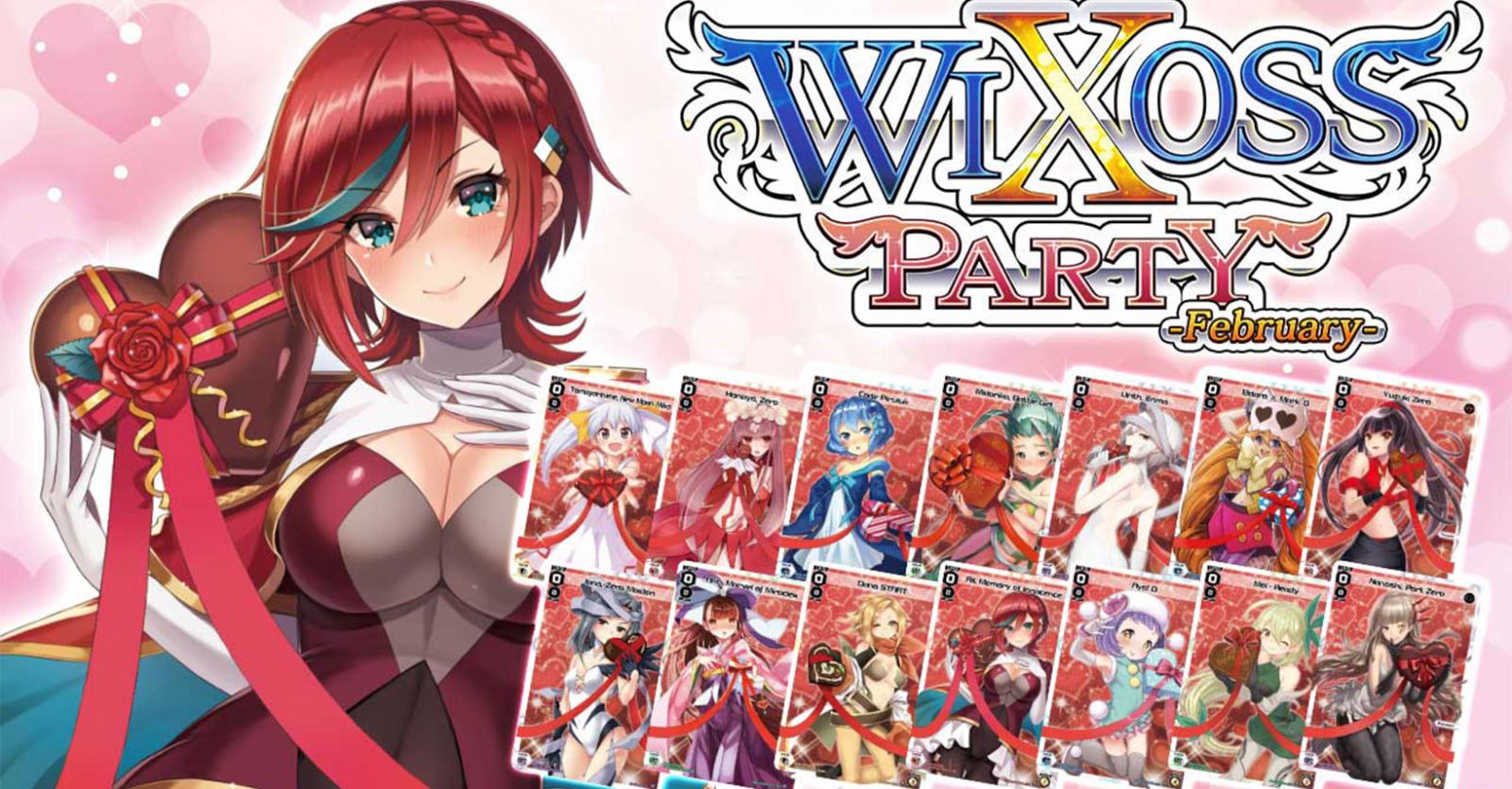 Join the Wixoss Party at your favourite Hobby Store !!!
Event Type:
Wixoss Party | Level 1 Tournament
Format:
At the organizer's choice
Tournament Period:
From 1 February 2023 to 28 February 2023
Prize:
PARTECIPATION
The Wixoss Party February awards promo non-foiled for all partecipants.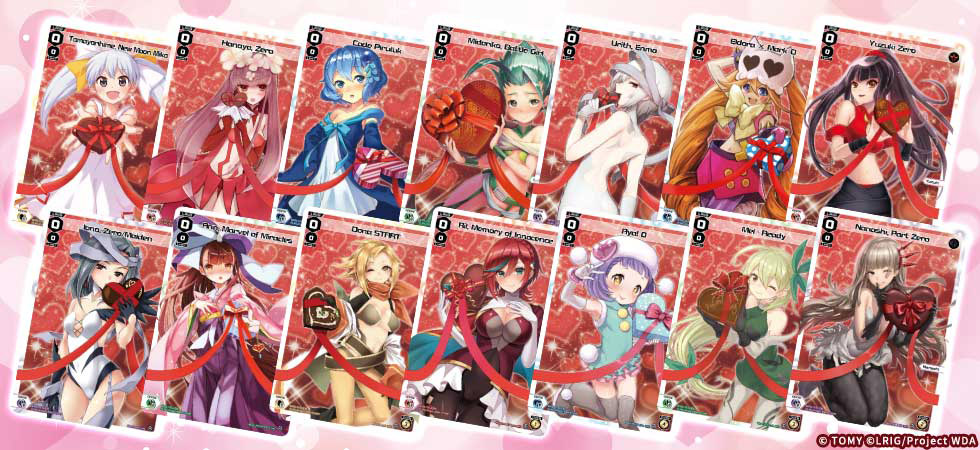 The distribution of each promo card depends on the store. We recommend that you check with your shop in advance!
Suggested Registration Cost: 5,00 - 10,00 €
---
Main Distributor for Europe


Website: www.gametrade.it
Email: info@gametrade.it
Sub Distributor for Spain

Website: https://www.facebook.com/blackpennygames
Email: sales@blackpennygames.com
Sub Distributor for Germany

Website: www.blackout-spiele.biz/ www.spielhouse.com
Email: info@blackout-spiele.de
Sub Distributor for France

Website: www.ynaris.com
Email: account@ynaris.com
Organizers List
| Date | Format | Location | Address | Region | | | | |
| --- | --- | --- | --- | --- | --- | --- | --- | --- |
| 2/3/2023 16:30 | Constructed | Infernal Forge | Velia 83, Local 08016 Barcelona Spain | | | Contact | | |
| 2/5/2023 17:00 | Constructed | Libertalia Juegos | C/ Badajoz, 32 28931 Móstoles Spain | | | Contact | | Results |
| 2/5/2023 17:00 | Constructed | The Neverending Store | C/ Párroco António Gomez Villalobos 99 Local 41006 Sevilla Spain | | | Contact | | Results |
| 2/7/2023 18:30 | Constructed | Parkage | 25 Rue Geoffroy St-hilaire 75005 Paris France | | | Contact | | |
| 2/8/2023 17:00 | Constructed | Epic Loot | 19 Rue De Paris 62300 Lens France | | | Contact | | |
| 2/10/2023 16:30 | Constructed | Infernal Forge | Velia 83, Local 08016 Barcelona Spain | | | Contact | | |
| 2/11/2023 17:00 | Constructed | Libertalia Juegos | C/ Badajoz, 32 28931 Móstoles Spain | | | Contact | | Results |
| 2/12/2023 17:00 | Constructed | The Neverending Store | C/ Párroco António Gomez Villalobos 99 Local 41006 Sevilla Spain | | | Contact | | |
| 2/14/2023 15:00 | Constructed | Tanigami S.a. - Genève | Rue Rousseau 14 1201 Genève Switzerland | | | Contact | | Results |
| 2/14/2023 15:00 | Limited Booster Draft | Cartajouer | 54 Bis Boulevard Mantega-righi 06100 Nice France | | | Contact | | |
| 2/14/2023 18:30 | Constructed | Parkage | 25 Rue Geoffroy St-hilaire 75005 Paris France | | | Contact | | |
| 2/15/2023 17:00 | Constructed | Epic Loot | 19 Rue De Paris 62300 Lens France | | | Contact | | Results |
| 2/17/2023 16:30 | Constructed | Infernal Forge | Velia 83, Local 08016 Barcelona Spain | | | Contact | | |
| 2/17/2023 17:30 | Constructed | Krolm | Poczty Gdanskiej, 3 80321 Gdansk Poland | | | Contact | | |
| 2/18/2023 12:00 | Constructed | Chimera | Chimera, Bankwell Street Dy5 1ps Brierley Hill United Kingdom | | | Contact | | Results |
| 2/18/2023 15:00 | Constructed | Store | 203 High Street Ne81a Gateshead United Kingdom | | | Contact | | |
| 2/18/2023 10:30 | Pre-Sale | La Communauté Des Jeux | 22 Avenue Jules Ravat, La Communauté Des Jeux 38500 Voiron France | | | Contact | | |
| 2/19/2023 13:30 | Constructed | Leloupbar | Route De Praz Repos 26 1084 Carrouge Switzerland | | | Contact | | Results |
| 2/19/2023 17:00 | Constructed | Libertalia Juegos | C/ Badajoz, 32 28931 Móstoles Spain | | | Contact | | Results |
| 2/19/2023 17:00 | Constructed | The Neverending Store | C/ Párroco António Gomez Villalobos 99 Local 41006 Sevilla Spain | | | Contact | | |
| 2/21/2023 18:30 | Constructed | Parkage | 25 Rue Geoffroy St-hilaire 75005 Paris France | | | Contact | | |
| 2/22/2023 15:00 | Constructed | Living Realms Ltd. | 13-15 Sagar Street Wf10 Castleford United Kingdom | | | Contact | | |
| 2/22/2023 17:00 | Constructed | Epic Loot | 19 Rue De Paris 62300 Lens France | | | Contact | | Results |
| 2/23/2023 15:00 | Constructed | Living Realms Ltd. | 13-15 Sagar Street Wf10 Castleford United Kingdom | | | Contact | | |
| 2/24/2023 16:30 | Constructed | Infernal Forge | Velia 83, Local 08016 Barcelona Spain | | | Contact | | |
| 2/24/2023 15:00 | Constructed | Living Realms Ltd. | 13-15 Sagar Street Wf10 Castleford United Kingdom | | | Contact | | |
| 2/24/2023 17:30 | Constructed | Krolm | Poczty Gdanskiej, 3 80321 Gdansk Poland | | | Contact | | |
| 2/24/2023 15:00 | Constructed | Alita Cómics Santiago | Rúa Nova De Abaixo, 2 15706 Santiago De Compostela Spain | | | Contact | | |
| 2/25/2023 15:00 | Constructed | Living Realms Ltd. | 13-15 Sagar Street Wf10 Castleford United Kingdom | | | Contact | | |
| 2/25/2023 10:30 | Pre-Sale | La Communauté Des Jeux | 22 Avenue Jules Ravat, La Communauté Des Jeux 38500 Voiron France | | | Contact | | |
| 2/26/2023 15:00 | Constructed | Tanigami S.a. | Rue Du Midi 2 1003 Lausanne Switzerland | | | Contact | | |
| 2/26/2023 12:30 | Constructed | Dark Sphere | Unit 8 W12 Shopping Centre, London, W12 8pp W128p London United Kingdom | | | Contact | | |
| 2/26/2023 17:00 | Constructed | Libertalia Juegos | C/ Badajoz, 32 28931 Móstoles Spain | | | Contact | | Results |
| 2/26/2023 17:00 | Constructed | The Neverending Store | C/ Párroco António Gomez Villalobos 99 Local 41006 Sevilla Spain | | | Contact | | |
| 2/28/2023 15:00 | Constructed | Tanigami S.a. - Genève | Rue Rousseau 14 1201 Genève Switzerland | | | Contact | | |
| 2/28/2023 18:30 | Constructed | Parkage | 25 Rue Geoffroy St-hilaire 75005 Paris France | | | Contact | | |