Wixoss Party November Exclusive
Wixoss Party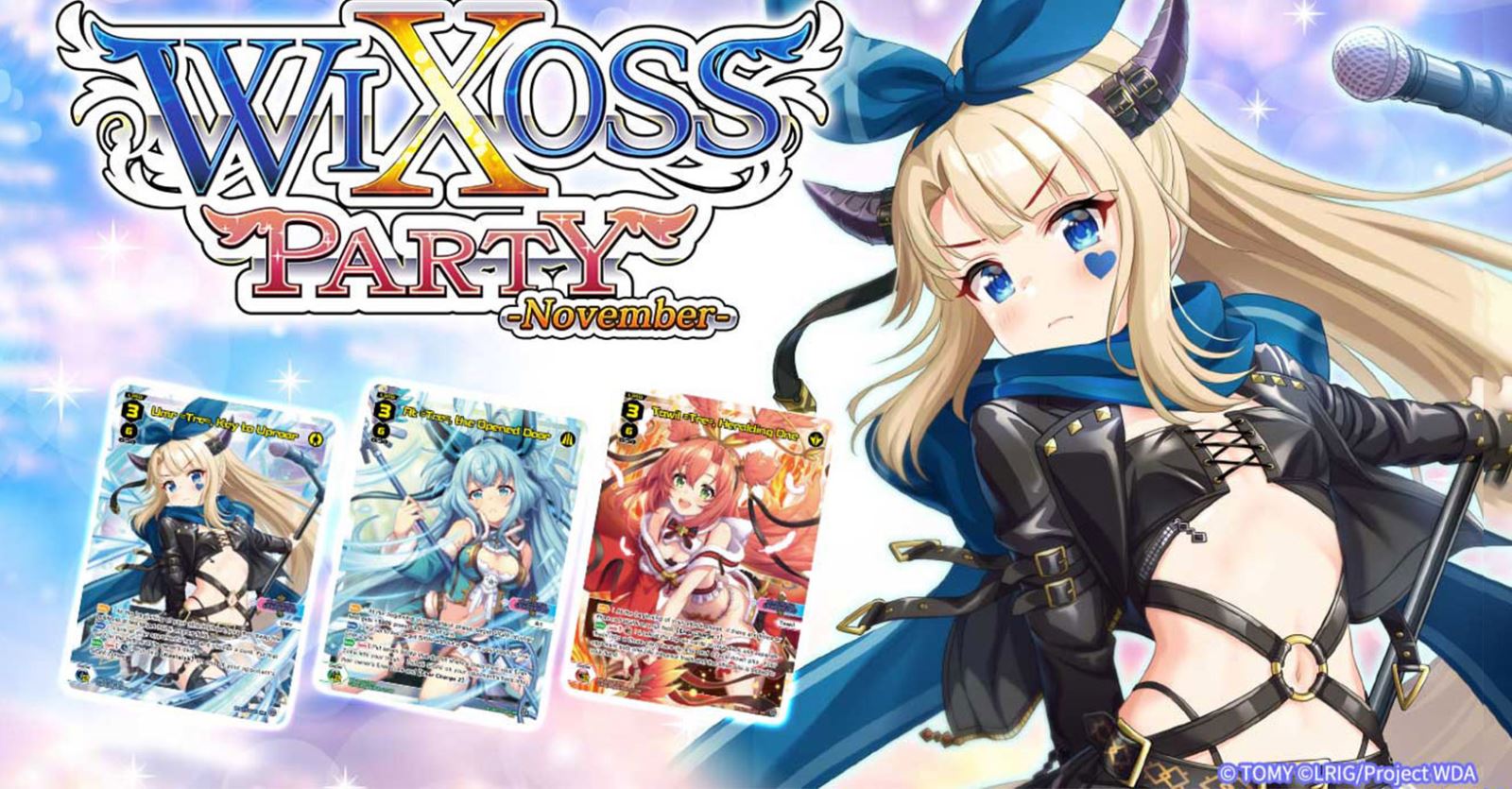 Join the Wixoss Party at your favourite Hobby Store !!!
Event Type:
Wixoss Party | Level 1 Tournament
Format:
At the organizer's choice
Tournament Period:
From 1 November 2022 to 30 November 2022
Prize:
PARTECIPATION
The Wixoss Party November awards TOP2 with the following foiled promo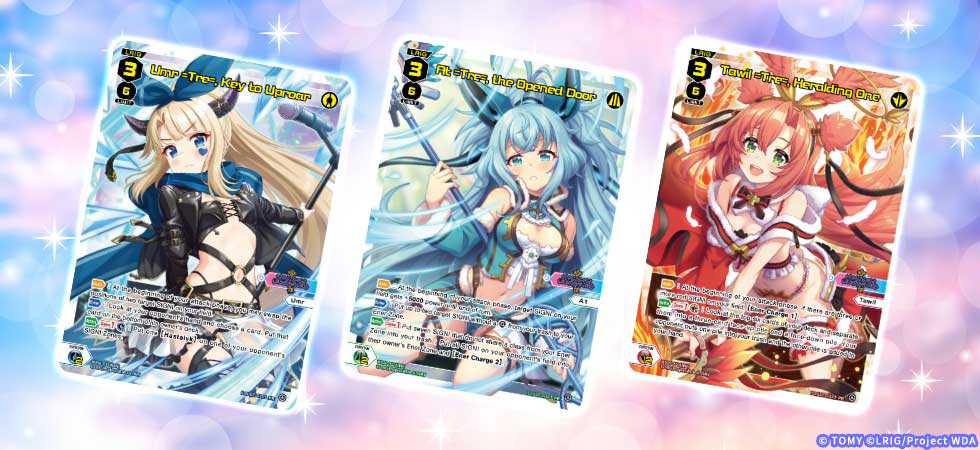 The distribution of each promo card depends on the store. We recommend that you check with your shop in advance!
Suggested Registration Cost: 5,00 - 10,00 €
---
Main Distributor for Europe


Website: www.gametrade.it
Email: info@gametrade.it
Sub Distributor for Spain

Website: https://www.facebook.com/blackpennygames
Email: sales@blackpennygames.com
Sub Distributor for Germany

Website: www.blackout-spiele.biz/ www.spielhouse.com
Email: info@blackout-spiele.de
Sub Distributor for France

Website: www.ynaris.com
Email: account@ynaris.com
Organizers List
| Date | Format | Location | Address | Region | | | | |
| --- | --- | --- | --- | --- | --- | --- | --- | --- |
| 11/5/2022 16:30 | Constructed | Infernal Forge | Velia 83, Local 08016 Barcelona Spain | | | Contact | | |
| 11/6/2022 17:00 | Constructed | Libertalia Juegos | C/ Badajoz, 32 28931 Móstoles Spain | | | Contact | | Results |
| 11/8/2022 19:00 | Constructed | Tanigami S.a. - Genève | Rue Rousseau 14 1201 Genève Switzerland | | | Contact | | Results |
| 11/8/2022 18:30 | Constructed | Parkage | 25 Rue Geoffroy St-hilaire 75005 Paris France | | | Contact | | |
| 11/9/2022 17:00 | Constructed | Epic Loot | 19 Rue De Paris 62300 Lens France | | | Contact | | Results |
| 11/11/2022 18:30 | Constructed | Store | 203 High Street Ne81a Gateshead United Kingdom | | | Contact | | |
| 11/11/2022 16:30 | Constructed | Alita Cómics Santiago | Rúa Nova De Abaixo, 2 15706 Santiago De Compostela Spain | | | Contact | | |
| 11/12/2022 16:30 | Constructed | Infernal Forge | Velia 83, Local 08016 Barcelona Spain | | | Contact | | |
| 11/12/2022 12:00 | Constructed | Chimera | Chimera, Bankwell Street Dy5 1ps Brierley Hill United Kingdom | | | Contact | | Results |
| 11/12/2022 13:30 | Constructed | Leloupbar | Route De Praz Repos 26 1084 Carrouge Switzerland | | | Contact | | |
| 11/13/2022 17:00 | Constructed | Libertalia Juegos | C/ Badajoz, 32 28931 Móstoles Spain | | | Contact | | Results |
| 11/16/2022 18:30 | Constructed | Parkage | 25 Rue Geoffroy St-hilaire 75005 Paris France | | | Contact | | |
| 11/18/2022 18:30 | Constructed | Store | 203 High Street Ne81a Gateshead United Kingdom | | | Contact | | |
| 11/18/2022 17:30 | Constructed | Krolm | Poczty Gdanskiej, 3 80321 Gdansk Poland | | | Contact | | |
| 11/18/2022 16:30 | Constructed | Alita Cómics Santiago | Rúa Nova De Abaixo, 2 15706 Santiago De Compostela Spain | | | Contact | | |
| 11/19/2022 16:30 | Constructed | Infernal Forge | Velia 83, Local 08016 Barcelona Spain | | | Contact | | |
| 11/19/2022 10:30 | Constructed | Tanigami S.a. | Rue Du Midi 2 1003 Lausanne Switzerland | | | Contact | | |
| 11/19/2022 15:00 | Limited Booster Draft | Cartajouer | 54 Bis Boulevard Mantega-righi 06100 Nice France | | | Contact | | |
| 11/19/2022 19:00 | Constructed | La Communauté Des Jeux | 22 Avenue Jules Ravat, La Communauté Des Jeux 38500 Voiron France | | | Contact | | |
| 11/20/2022 17:00 | Constructed | Libertalia Juegos | C/ Badajoz, 32 28931 Móstoles Spain | | | Contact | | Results |
| 11/22/2022 19:00 | Constructed | Tanigami S.a. - Genève | Rue Rousseau 14 1201 Genève Switzerland | | | Contact | | |
| 11/23/2022 17:00 | Constructed | Epic Loot | 19 Rue De Paris 62300 Lens France | | | Contact | | Results |
| 11/25/2022 18:30 | Constructed | Store | 203 High Street Ne81a Gateshead United Kingdom | | | Contact | | |
| 11/25/2022 17:30 | Constructed | Krolm | Poczty Gdanskiej, 3 80321 Gdansk Poland | | | Contact | | |
| 11/26/2022 15:00 | Limited Booster Draft | Cartajouer | 54 Bis Boulevard Mantega-righi 06100 Nice France | | | Contact | | |
| 11/26/2022 19:00 | Limited Booster Draft | La Communauté Des Jeux | 22 Avenue Jules Ravat, La Communauté Des Jeux 38500 Voiron France | | | Contact | | |
| 11/27/2022 17:00 | Constructed | Libertalia Juegos | C/ Badajoz, 32 28931 Móstoles Spain | | | Contact | | Results |
| 11/30/2022 17:00 | Constructed | Epic Loot | 19 Rue De Paris 62300 Lens France | | | Contact | | |
| 11/30/2022 12:30 | Limited Sealed Pack | Dark Sphere | Unit 8 W12 Shopping Centre, London, W12 8pp W128p London United Kingdom | | | Contact | | |